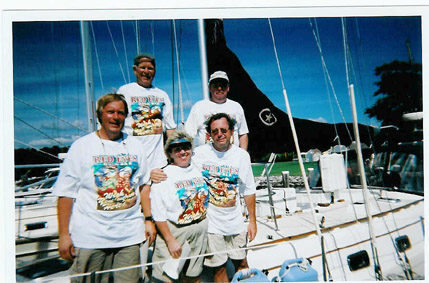 Course: ASA 104 Chesapeake Bay Intermediate Coastal Cruise
Date: September 18-22, 2002
Vessel: IP45 HALIMEDA
Students:

Kate and John Endicott, Dean Gallagher, and John Daniels


Captain: Andy Prescott
Pre-Departure Week- Captain Andy Prescott phoned each of the students Kate and John Endicott, Dean Gallagher, and John Daniels to discuss their expectations, desired itinerary, and any special menu or other requirements. Kate and John had completed our ASA 101 & 103 in the Virgin Islands on one of our eight day cruises. Dean completed our ASA 104 course the past summer and was interested in some post graduate 104 studies. John D. was an experienced sailor who wished to challenge ASA 103 while taking this ASA 104 course.
Pre-Class Dinner- All agreed to meet the evening before the first day. Drinks, dinner and the moonrise at Rock Hall's Pruitt's Restaurant were a great way to start things off and get to know one another. Meal planning, provisioning and the itinerary were further discussed and agreed upon amidst tall tales of the sea by "The Sponge" John E. They were soon matched by John "Lumber" Daniels! Dean's love of eggs and Baltimore quickly gave him the nickname "Egg's Baltimore." Clearly it was going to be a fun group – all interested in improving their sailing skills while having a good time.
Wednesday, September 18- A sunny late summer morning at Spring Cove is the perfect place to sit in HALIMEDA's large and spacious cockpit "classroom". Using the ASA 101 and 103 Log Book Outline we became familiar with the topside parts and functions of this fine sailboat. Next the crew headed below to leave no stone unturned as each and every locker and thru-hull was examined. Finally we carefully studied HALIMEDA's fuel, engine, electrical, HVAC, galley and plumbing systems. Ever important safety equipment was also checked carefully.
Personal belongings were stowed. A quick run for provisioning, and rules of the road and docking methods were reviewed. Student skipper Dean skillfully coordinated his crew for a perfect departure from the slip as we headed for the sailing capital of the world – Annapolis.
The Bay was a glorious reflecting pond with neither a wave nor a boat in sight. Motoring skills including standing right turns were practiced as we glided south. The day came to a perfect ending as we pulled into Ego Alley alongside Faucett's Marine. We chatted with tourists and fellow sailors who stopped to admire Halimeda's fine lines before heading to dinner ashore. The advantages of a 45 foot IP was seen as it so comfortably accommodated all of us.
Thursday, September 19- Each day each crewmember has one of four assignments: skipper, navigator, engineer or cook. After a great Chic and Ruth's breakfast and their traditional Pledge of Allegiance Skipper John "Lumber" executed a standing right turn and we headed for the Bay. Kate had noted light winds predicted so we took advantage of the situation to focus on sailing skills rather than making a destination spending most of the day off Tolley Point the winds started to build. Thus each student had the opportunity to take the helm while others acted as crew for every point of sail and a variety of sail combinations. The crew noted the benefits of a full keel boat watching other boats bounce around while we smoothly cut through the waves.
Late afternoon found us heading back into Annapolis with a fine opportunity to review rules of the road. We encountered three races with dozens of boats, many flying spinnakers– a visual feast for us sailors. The small Naval Academy "ships" were also out practicing war game maneuvers, which added to the fun and excitement of the day. Finally each student practiced picking up a mooring as we ended up secured to number "6" for the evening. A quick call to the water taxi found us exploring and dining in Eastport.
Friday, September 20- The Sponge had charted an ambitious journey to Herring Bay. So we beat south in splendid 15 knot winds with sunny skies. The crew became a high performing team as they tacked numerous times. Our stowaway – Ralph the pumpkin headed dummy – managed to fall overboard so many times that it gave each student the opportunity to practice everyone's most favorite exercise: crew overboard! Cook John D prepared a great lunch underway. LOP's and fixes helped define where we were at all times. We also cranked up the radar as we began to encounter numerous ships and barges proceeding up and down the Bay. Eggs Baltimore talked about methods of preventing seasickness and Kate demonstrated that careful crew preparation pays. She executed a perfect docking maneuver along the tee of E Dock at Herrington Harbor South and was awarded the Captain Andy's Cup. A spectacular moonrise over the Bay ended another great day – particularly for John D. who took and passed the ASA 103 exam.
Saturday, September 21- Engineer John D. carefully checked all boat systems before departure. John E. demonstrated proper stove procedures making his famous coffee. Captain Andy conducted a cockpit review of 104 Sailing Knowledge including Planning, Living Afloat, Weather, and Seamanship. Eggs Baltimore charted a fast course to Kent Narrows which soon had us flying on beam and broad reaches at hull speed in winds of 15 -20 knots! This only got better as we again encountered dozens of boats at Bloody Point participating in the Annapolis to Oxford race - a spectacular sight and spectacular sail.
However a frightening sight was encountered as we approached the draw bridge at Kent Narrows – a place known for its two plus knot currents. An over anxious 36' Catalina in front of us nearly tore apart its standing rigging approaching the bridge before it had reached its open position. The captain then backed off on his throttle and was thrown to the bulkhead by the current. Needless to say we circled about, put together a proper plan and skipper John E, his adrenaline running, did an outstanding job of guiding HALIMEDA with great style under the bridge! The final challenge was docking with the current against us on the tee at Mears Point Marina. Careful planning, the use of warps and an excellent dock hand had us alongside in no time.
As numerous passing boats recognized HALIMEDA and shouted friendly greetings, the Johns and Kate took and successfully passed the 104 test. It was time for a celebration which began with Dean awarding the entire crew Red Eye Restaurant tee shirts. After watching the Harvest Full Moon rise, we slept like babies despite the hot weather with Halimeda's air-conditioning running.
Sunday, September 22- Alas, all good things must come to an end but first we were going to squeeze in every last bit of sailing. John D. charted our course out the Chester River to the Bay and north to Swan Creek. With southerly winds again at 15 knots we jibed numerous times remembering TSP- PST! Post graduate Eggs Baltimore assumed skipper duties to first top off the fuel and pump out at Haven Harbor. Then it was back to the slip at Spring Cove – or at least we thought – a sailboat pumping out near our slip forced Dean to execute a fine standing right turn in front of many slip holders – all noting how well it was executed. Finally we were able to return. Another Tursi Tip assured a perfect docking. Denise greeted us and snapped our "class photo" It was a great week!
Captain Andy Prescott
S/V HALIMEDA, IP-45
Rock Hall, MD
September 22, 2002