Home
---
---
---
---
---
---
---

~ A Cut Above ~

We use rugged, high quality cruising yachts for all of our sailing courses with world-class, long distance cruising reputations.
Basic and Intermediate Level courses (ASA101, 103, 104 and 118) are taught on our Island Packet IP32 sailing yachts.

Advanced Coastal and Ocean Training Cruises (ASA106 and 108) are taught on NAVIGATOR our IP40 sailing yacht.

Students may sleep, aboard during all onboard sailing classes and cruises.
SCHOLARSHIP Island Packet 32
ACADAME Island Packet 32
NAVIGATOR Island Packet 40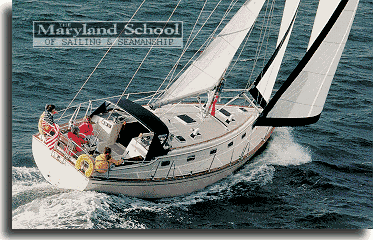 IP40 NAVIGATOR is equipped with an extensive list of new equipment for extended cruising and ocean passagemaking, including:
Genoa whisker pole for offwind sailing

Sea anchor

Single sideband HF long distance radio with Pactor modem permitting voice and email communications and a wide array of weather forecast images and text

VHF radio

Garmin radar and AIS automatic identification systems

Garmin multi function display (MFD) including electronic charts, heading sensor, radar, AIS imaging, wind displays, and Sirius XM weather displays.

Iridium GO satellite communicator providing a WiFi network for email and voice comm using an iPhone and email using a laptop computer.

NAVTEX stand alone receiver

Garmin wind direction and speed sensors displaying in cockpit and on MFD

SPOT position tracking device

Life raft mounted on deck in a hard canister plus abandon ship equipment

EPIRB with GPS registered with NOAA

Offshore PFDs

Medical kit and medical advisory service with George Washington University emergency medical facility accessible via Sat Phone

Charts, plotting sheets, plotting tools, sextant and navigation reference books

Ship's steering compass, sailing instruments, depth sounder, Garmin 182C GPS Display, and masthead Windex for helm use

Sea berths with lee cloths

Cockpit canvas including dodger, Bimini and bridge

Refrigeration and propane cooking stove

Air conditioning for dockside use

Inventory of key spare parts and components