Home
Purpose
Course Descriptions
School Yachts
Schedule of Courses
Ocean Training Cruises
ASA Certification
Registration Info
Our Location
Our People
Contact Us
---
Course:
ASA103-104 Virgin Islands Coastal Cruise
Date:
Feb 7-14, 2015
Vessel:

Jema Joy

IP440
Students:

Amy Allen, Bengt Dalemar, Suzanne and Robin Sparrow, Glen Scarcelle

Captain
Steve Runals
Pre-departure Preparation:
Preparation for our training began with cruise training guidance by Rita Hanson, MDS office director, and the Captain (yours truly) prior to the end of Dec. We conducted a January online meeting to provide an opportunity for the crew to get to know one another, identify individual training goals and concerns, discuss cruise plan options and begin development of a supporting meal plan. The Captain arrived a day ahead of time to go over paperwork with the charter company and (next morning) do boat checkout with Skip King, head of the Island Yacht Charter Company, which included checking the main engine, all lockers, boat systems and starting the outboard. Our crew comes with a wide range of sailing experience that each looks forward to building on during the class as they rotate thru responsibilities as captain, navigator, engineer, bosun and safety officer.
Saturday, January 31, 2015, Day 1:
I finished onboard preparations by noon - just ahead of the arrival of four of the crew who had arrive on island a day or two early. We went right to work reviewing our cruising plan based on forecast weather and finalizing the meal plan developed by Amy and Suzanne. As we were about to head to Moe's, the local grocery store, Glen arrived completing our crew. The Captain, Amy and Suzanne headed to the store while the rest finish stowing gear and getting acquainted with the boat. Provisioning today allowed us to cool down our perishables in the refrigerator while we were still on shore power. Once provisions and individual gear were stowed, we reviewed course requirements, went over ondeck gear (running and standing rigging, canvas, and deck nomenclature), worked thru The Boater's Guide to Federal Boating Requirements booklet followed by dinner ashore at Fish Tails. A good start.
Day 2:
We begin the day below going over all ships systems followed by an introduction to coastal navigation with its charts, tides and buoys. Robin, our navigator for the day, then developed our navigation plan for the day. The morning finished with a review of all points of sail and MOB under power procedures before breaking for a much looked for lunch. We depart marina by 1300 and once clear of traffic and well into Pillsbury Sound, all had the opportunity to maneuver the boat under power and conduct MOB under power drills. Once our tipsy dummy is finally secured, we make our way under sail to our anchorage at Rendezvous Bay. Our second attempt at anchoring firmly sets the anchor, allowing us to enjoy this beautiful spot as we set up the grill and enjoy a grilled chicken dinner paired with Glen's delicious homemade wine, and we watch a beautiful sunset. The almost full moon and star filled sky provide a great backdrop to review the day's events, go over our knots and prepare the navigation plan for tomorrow. It's great to be on the water, especially knowing how cold it is back home.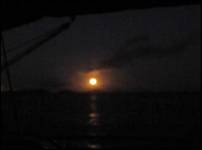 Day 3:
Yesterday's ship and sail handling provided a good starting point for the day's training. Suzanne, our navigator, has laid out a course that takes us back into Pillsbury Sound, thru the Windward Passage and on to Francis Bay for the night with a stop to pick up a mooring at Caneel Bay and lunch in Cruz Bay. The day's forecast calls for 15-20 knot ESE winds and a strong northern swell. Once back into Pillsbury Sound, we practice all points of sail while gaining a clearer understanding of the rights and responsibilities of "stand-on" and "give-way" vessels in this heavily trafficked area. Suzanne has voiced a concern, echoed by all, about gybing, so we spend extra time focusing on this potentially dangerous maneuver. Once all understand how to properly utilize preparatory and execution commands and control the main sheet, executing this maneuver in the increasingly strong winds no longer seems as intimidating as it once did. By late morning we have worked our way around the Two Brothers and after a review of mooring procedures, pick up a National Park mooring at Caneel Bay. We discuss outboard motors and dingy operations as we head into Cruz Bay for lunch and a walkabout. Back on the boat, we head for the Windward Passage and our anchorage in Francis Bay. The winds have built and veered to a strong SE wind, gusting to over 30 knots as we tack our way thru the narrow Windward Passage. Once thru, we see the power of the northern swell in the waves and huge seas breaking on Johnson Reef, helpfully ringed by a set of yellow buoys. We secure a mooring and go for a short swim before preparing for and taking the ASA 101 test. All pass with flying colors. We have a light dinner, discuss the day's events and help Glen lay out our course to Culebr in the Spanish VI west of Puerto Rico The bright, nearly full moon and dropping wind make for a quiet night and well earned rest.
Day 4:
Today's task is to navigate around the northern side of St Thomas, through the reef-strewn entrance into Culebra to an anchorage off the town of Dewey in the Ensenada Honda. We get an update on the weather, conduct preoperational checks and drop our mooring by 0700. The forecast is for light E to ESE winds and reduced northerly swell. Once underway and motor sailing on our course, Glen, with the help of several of crew, tracks our progress by taking a series of two-bearing fixes. We build confidence in our ability to fix our position using a hand bearing compass by comparing the solution to an electronic fix from a handheld GPS. All see the advantages of running with a preventer to secure the mainsail boom in the still rolly seas. Once pasted Savanna Island, we come up to a beam reach and enjoy a beautiful sail to the entrance buoys to Ensenada Honda. We carefully work our way into this very protected anchorage. After dropping anchor and clearing in with Home Land Security via phone, we head into the Dingy Dock Restaurant for some cool refreshment and shore side exploration. The refrigerator and ice box systems are working only sporadically so the Captain and Glen head to a local store for ice. We wander the streets of this unique little town for a while then Bengt, Amy, Robin and Suzanne find a shady spot with ice water to quiz each other on ASA 103 questions. Glen, the easy going guy he is, locates a local hostel where the crew is able to take shows on a very hot afternoon.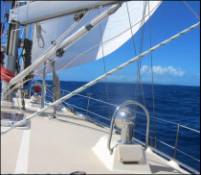 We later assemble back at the Dingy Dock for an excellent dinner before returning to the boat. We are impressed with the size of the many tarpon swimming off the dock, waiting for scraps from the restaurant. Once back aboard, we open hatches and enjoy the beautiful anchorage lighted by a bright full moon while Amy lays out the course for tomorrow's adventures.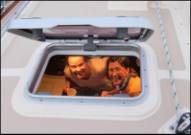 Day 5:
Our plan today is to stay in the vicinity of Culebra working on the mechanics of all points of sail and executing MOB under sail. Before departing, Glen prepares an excellent breakfast; we execute pre-departure checks and review marine weather. Directed by our navigator Amy, Suzanne, our captain for the day, gets us out past the reefs guarding the entrance to Ensenada Honda, south around the tip of Culebra and into the Canal de Luis Pena where we practice all points of sail with an emphasis on jibing. In dying winds, we motor sail around Luis Pena Island and pick up a day mooring for a short swim and lunch. The wind has returned so it's back to work handling sails. We review MOB procedures and head into Canal de Luis Pena where we practice several MOB maneuvers. All agree that although we can recover an MOB, it is far better to have everyone stay aboard and not have to use that skill.
It's now time to work our way back around the western edge of Culebra, thru the reefs outside Ensenada Honda, into the Canal Del Sur and finally into the surreal anchorage at Bahia de Amodovar. Careful navigation by Amy and piloting by Robin get us safely
into this beautiful spot, protected by a reef and mangroves yet open to the still strong SE winds. We have clear view of St Thomas 17miles ahead to the east. Anxious to get the work out of the way, the crew decides to take their ASA 103 test before a swim, deck shower and dinner; a good choice on this busy day. All do well on the test, motivated by the opportunity to take a shower and eat a grilled pork loin dinner. Robin, our grill master has already demonstrated his mastery of the craft, proving himself again with an excellent meal. We finish the evening discussing the day's events and planning our return trip to St Thomas. Another beautiful evening.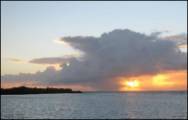 Day 6:
Today is the long trip back to St Thomas. The forecast calls for 14-18 knot SE winds so it looks like a good opportunity for some close windward work. Bengt, our navigator, has laid our return course anticipating long tacks which will bring us near Sail Rock, an excellent waypoint to gauge progress. Before departing we spend time going over engine systems in detail and conduct predeparture checks with an emphasis on making sure all hatches and portlights are secure. With Bengt's guidance and local knowledge, we clear the reefs guarding the entrance to Culebra and settle into a close hulled course when an opportunity to test the mettle of the crew develops – the headsail halyard chafes thru at the top of the mast and the jib begins sliding down the luff track into the sea. With Glen at the helm, holding a steady course, the rest of the crew quickly secures the sail to the deck. It's a great opportunity to experience working on a rolling deck, application of knots and development of contingency plans. We are 17 nm from St. Thomas in building wind and seas. All rise to the task.
With the headsail secured, we add a deeper reef to the mainsail, set the stay sail and motor sail toward home, tacking the boat to keep the sails drawing and minimizing the rolling from the now 4-6 ft waves. It's a long trip home but Bengt carefully tracks our progress with help from the crew by taking two bearing fixes. We rotate the helm, review ASA 104 topics, and share corny jokes. Along the way we get our chance to see Sail Rock up close and as a bonus, pass Saba Island close to port. We discuss options for the night's anchorage, including consideration of Buck Island and Brewer's Bay, but we decide on putting into Lindbergh Bay to get some protection from the wind and waves and ice for our still inoperable refrigerator and ice box. Once securely anchored, we flake the jib, thus clearing the foredeck area and seeing a practical use for the trucker's hitch. The Captain, Robin and Glen take the dingy into the beach and get ice from the Best Western Hotel. With the boat secured and perishables cooled, all take the opportunity for a swim, deck shower and prep for dinner. Robin again performs his magic on the grill and we enjoy another fine meal of smoked kielbasa. After dinner, navigator Robin lays out our course for home by way of a trip around Water Island while the remainder of the
crew, less Glen who will not be taking it, study for their final ASA test. As the wind drops, the anchorage gets very rolly but after the long day it does little to disturb a welcomed rest.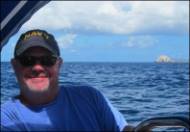 Day 7:
Robin has laid out the return course in great detail, determining the time to complete each leg based on boat speed and distance to be covered. With Bengt at the helm, we motor sail back to Red Hook utilizing the protection of Water Island to minimize exposure to the building wind and waves, passing first up the West and then down East Gregerie Channels. As we approach the end of the West Gregerie Channel we are treated to the sight of a seaplane coming for a landing in the Haulover Cut by Hassel Island, not something you see every day. Robin updates his projections for each leg based on changes in boat speed and accurately times our arrival back to Red Hook. We call the fuel dock to refuel and are told to standby. This requires careful maneuvering in this crowded harbor. Once cleared in we refuel and then pick up a mooring to await space at the dock. We spend the time there reviewing knots, answering ASA 104 related questions, eating lunch and conducting an initial course review. By 1330, we are secured in our slip, empty our trash and those taking the ASA 104 test head up to a cool place in the shade of the veranda for the test. The test includes, as no surprise, course plotting with which all are now very familiar. All do extremely well on the test. We take the opportunity in the cooling outside temperatures to conduct a thorough cleaning of the outside of the boat. Then it's showers and a final celebratory dinner ashore. A great way to end the training course. It's Friday night, and the Red Hook marina bar is hopping with a band and a lively crowd, but it doesn't deter a good night's sleep.
Day 8:
The charter agreement requires that we have the salon "broom-cleaned", the fridge emptied and cleaned, and the topside hosed down and free of salt residue before noon. We have breakfast, clean the boat, and are showered and ready to go before 11 am. The boat shines by the time we are done. Everyone is rightfully proud of their achievements and voices plans to further hone their skills on the water. We only remember then to take a picture, and were disappointed that we didn't get the photo before Glen, who had to leave early to make his flight, left. It has been a great class with unique opportunities and a few challenges but each has grown in skills and confidence. I salute each of you – with thanks and appreciation – and wish you Fair Winds as you continue in your sailing adventures.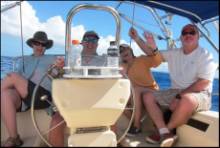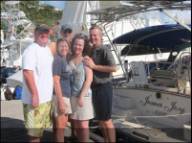 Captain Steve Runals
On board S/V Jema Joy, Feb 7, 2015
Red Hook, St. Thomas, USVI