Winter 2019
Caribbean ASA 101-103 or 103-104
Schedule & Cost
Includes two levels of ASA sailing certifications as follows:
Winter 2019
Feb 12-21
Feb 21-29
March 6-14
Fee $2900 per person + $39 ASA101 Membership Fee
ASA101 challenge fee: $250 including study materials sent in advance plus ASA testing and certification.
Why Choose The Maryland School for your Caribbean Training?
Request Additional Information
You may register for any course online
or email to office@mdschool.com
or call us at 410-639-7030
Typical Caribbean Itinerary: We will be sailing an Island Packet IP460 this winter, and class dates run from Friday afternoon to Saturday a week later. Students travel and arrive in the afternoon of the first Friday at our home port at American Yacht Harbor in the village of Red Hook on the east end of St Thomas in the US Virgin Islands, and get settled aboard the yacht and the Caribbean lifestyle. We'll then begin cruise planning discussions and develop our planned itinerary for the coming week over an evening meal at a nearby tropical restaurant, and here we have three possibilities: We may elect to circumnavigate St John Island for it's many delightfully secluded anchorages and scenery, or we may head north to Jost Van Dyke Island where we can enter the British Virgin Islands and it's more active night life ashore, or we may elect for a much longer cruise downwind to the Spanish Virgin Islands and a 45 mile return cruise to windward and our home port. But, can only do one of these routes.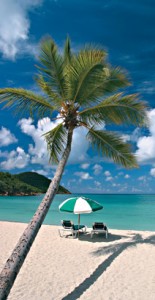 On Saturday we'll inspect the yacht and equipment, review operating and emergency procedures, prepare a navigation plan for our intended cruise route, review weather forecasts, inventory onboard supplies, prepare meal menus for the week and shop for food and drink provisions. After stowage and preparations for sea, we'll get underway for some sailing practice and end in an anchorage at St John Island or Great St James Island. Here we'll anchor or pick up a mooring and spend the evening aboard with relaxation, snorkeling, dinner and decide on our itinerary for the remainder of the week. Then, a restful sleep aboard in a tropical paradise.
Sunday we'll have breakfast aboard, review navigation plans and weather forecasts for the day, prepare the yacht for sea, and get underway for more sail training, crew overboard rescue training and other emergency practice drills. After this full day of activity, we'll again moor at an anchorage, relax, snorkel, have dinner aboard, confirm our ports of call for the remainder of the week, and prepare detailed navigation for the next day's cruise destination.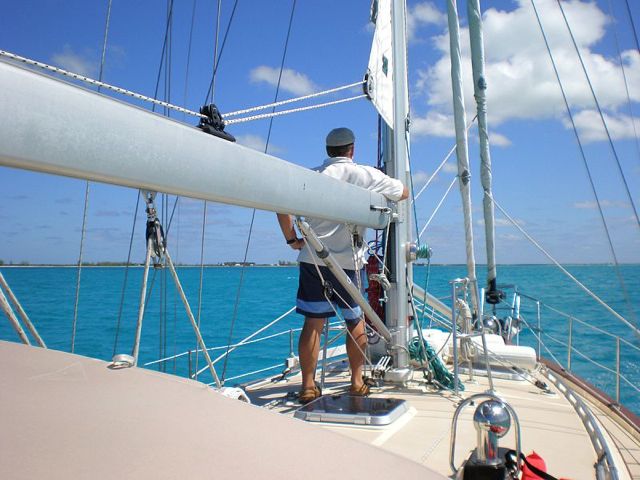 Tuesday after breakfast, navigation and weather preparations, we'll get underway for our next destination depending on what we decided the evening before.
If we decide to round St John Island, we'll have two options to consider, sailing eastward either north or south of St John Island, and this decision is largely dependent on the weather forecast. If we expect strong northeast winds and large swells from the Atlantic Ocean up north, we'll probably opt to sail on the south side of St John where there are several delightful anchorages including Rendezvous, Salt Pond, Lameshur and Round bays. Conversely, if we expect strong southeast winds we'll probable stay of the north side of St John where we'll find Caneel, Hawksnest, Cinnamon, Maho, Francis and Leinster bays. Both routes include parts of the Virgin Islands National Park area of St John and its pristine, natural beauty. Whichever route we choose, we'll find attractive scenery and pleasant snorkeling. Then a dinghy ride to shore for an afternoon and evening of touring, which at some anchorages may include dining out at attractive local restaurants, and a return to the yacht after sunset to bed down for the night.
If we elect to go to the BVI, we'll have greater access to the populated areas of Tortola and active night life ashore, or the popular Foxy's Restaurant on Jost Van Dyke, or many other islands including Virgin Gorda, Norman Island, Peter Island and Anegada. This route will offer more evening activity ashore.
If we choose a longer and more challenging sailing destination, we may opt, weather permitting, to go downwind west to the Spanish Virgin Islands of Culebra or Vieques or Isla Culebrita; this is a roughly 45 mile downwind sail and return sail upwind, and may include an intermediate stop at Brewers Bay, Lindbergh Bay or Water Island on the west end of St Thomas.
Whichever route we choose, we'll need to return to home port at American Yacht Harbor by Saturday morning to top off fuel and water tanks, return to our slip, pack gear, clean up the boat and depart before noon.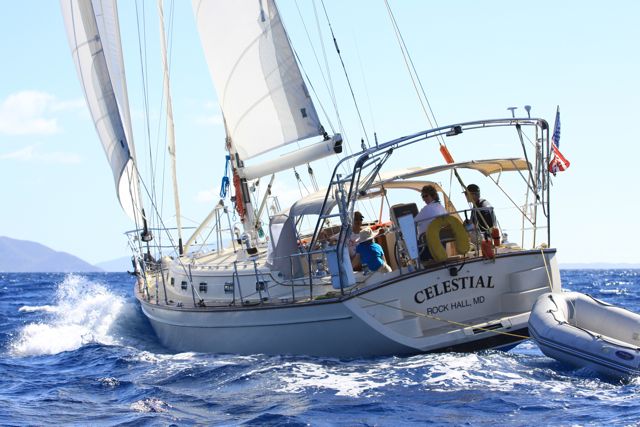 The foregoing is a typical itinerary for the Basic and Intermediate level cruises, but the actual plan for your cruise will be based on weather expectations and your preferences to the extent that we can fulfill them.
On most days, the anchorage moorings fill by mid-afternoon, so morning departures are necessary to ensure a good day's sail before arriving at the intended destination. In many anchorages, moorings must be used and anchoring is not permitted.
In general, we'll plan to complete lesson discussions in the afternoons or evenings in order to leave the prime daylight hours for sailing.
return to Home