Home
---
---
---
---
---
---
---

~ A Cut Above ~
Course:
Advanced Coastal Cruising; DELMARVA Circumnavigation
Date:
July 2 to 9, 2016
Vessel:
IP40 NAVIGATOR
Students:
René Carlson; Adrian Ciuperca; Pete Grivas; Bob Pyle;

Andrew Reisenweber
Captain
Jochen Hoffmann
Pre-departure Preparation
I arrive Wednesday, June 29 to meet Tom Tursi of the Maryland School to check out new electronics installed on S/V NAVIGATOR and prepare the ship for our voyage..
My highly experienced student crew arrives during the afternoon of July 1, and we finish meal planning plus initial introduction to systems below. Over dinner at Bay Wolf restaurant, we get to know one another and preview our upcoming cruise. In fact, our preview had begun weeks earlier with an online meeting and preplanning assignments focusing on key components of an offshore passage: consulting resources to achieve an efficient departure, safe transit, and successful landfall. To this end, students had looked up charted hazards, tides at key points, bridge elevations and navigation lights protruding down from bridge girders, harbors-of-refuge, USCG Light List entries for crucial departure and landfall waypoints, etc. Weather analysis would come later.
Saturday, July 2, 2016, Day 1 - Lankford Creek to Swan Creek, Rock Hall
In the context of preparing for departure – i.e., not simply casting off, but being away from familiar waters and boat supply/repair facilities or, in our case, upon the open sea – it makes sense here to view our first 3 days as a coherent unit. We are spending this training time to acquire skill sets prudent mariners need to be ready to face open water. We'll soon see what is involved before we can confidently cross the COLREGS line, that line on charts separating inland from international waters.
In our case, we start day 1, after a simple breakfast, inspecting personal gear, lines, sails, and winches above deck, and systems and equipment below, including safety equipment. Next, we break out charts and the essential NOAA-Chart No. 1, plus navigation tools and a sample navigation plan work sheet. We use all to develop our first nav plan from Lankford Bay down the Chester River and into Swan Creek off Rock Hall on the Bay side. Also, Andrew and the captain shop for provisions and stow these in designated lockers so they can be easily accessed during the cruise. Mid-afternoon, after checking weather reports and topping off water, we navigate per plan to our first anchorage at Swan Creek. We find it already crowded with pleasure boats. Feeling uncomfortable with our first anchor spot, we raise the gear, find a slightly less crowded location, and enjoy a simple dinner in the cockpit.
Day 2 – Rock Hall to Summit North Marina, Chesapeake and Delaware Canal
We are now building on existing skills in earnest. We depart at 0730, perform engine and Man Overboard (MOB) Maneuvers, and, under a freshening breeze on the stern at S 10 to 15 knots, we set a full mainsail with preventer plus genoa for a spirited run northward. The legs up Chesapeake and (tomorrow) down Delaware Bays will serve for all to become thoroughly familiar with the boat and watch routines needed on a long voyage. Initially, we establish a rotating one-hour schedule of crew roles and duties, namely: navigator, lookout, helm, deck hand, and idler/assistant navigator, in order to review and reinforce essential skills. That includes for the idler to take a break and be rested for upcoming duties. I remind us that as sailors we need to realize that we are more often than not distracted and short handed. Distracted because we are simultaneously operating, navigating, and supervising; and short handed because we are often the only trained, experienced sailor on board when we get underway with family or friends. Taking on the role of "Skipper of the Day" from noon to noon later in the cruise, will further sharpen the crew's focus as they learn to be in charge while underway. Bob will be skipper as we make for sea, followed by Rene' and Adrian during our offshore leg and Pete and Andrew will be skippers as we make our way up the Bay. Landfall will be "All Hands."
The crew calls ahead to Summit North Marina to arrange for a slip and we dock in ample time to have dinner ashore, shower, and develop the next day's navigation plan.
| | |
| --- | --- |
| | Click image to enlarge |
Day 3 - Summit North Marina to offshore via Delaware River and Bay
As part of pre-planning assignments, Adrian had found that the much desired ebb tide on the Delaware River would be unfavorably late - at noon the next day. Thus, we won't be casting off before 0900. We use the extra time after breakfast to learn how to rig a whisker pole. Pete had earlier looked up vertical clearances of Canal bridges and overhead power lines, while Rene' had checked the various levels to which the Conrail Vertical Lift Bridge can be raised. Adrian, our lookout, was pleased to report – once underway - that it had been raised high enough for us to pass safely underneath.
MINIMUM LIGHTING FOR VERTICAL LIFT BRIDGES:
(As Viewed From Upstream)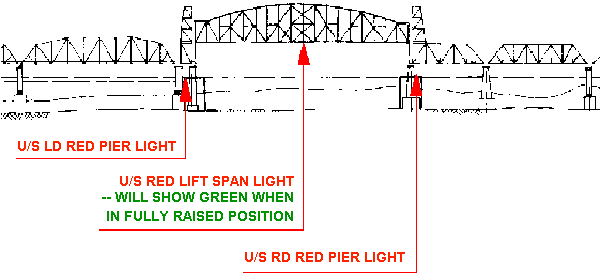 At the potentially dangerous exit from the C&D Canal (swift currents, shoal at exit), we use compass bearings to nearby Nav Aids picked by student crew to keep us safely off the breakwaters which can be submerged at high tide. Again as part of pre-planning, Andrew had listed tides and currents for local waters and Bob had looked up local magnetic disturbances that can affect the ship's compass heading. Pete had found the charted, narrow opening through the long Reedy Island Dyke, through which we actually steer to simulate a bail-out landfall in case of a sudden gale.
South winds at 10-15 knots won't allow us to sail in the shallow waters of the River's auxiliary shipping lanes. So we motor down river and perfect the skills of taking bearing fixes on the Salem Nuclear Power Plant to find our position and check course headings. We review ASA106 text topics and also discuss what to expect once offshore with the four hour watch schedules now set as follows: Watch No I from 0000 to 0400 hours is Bob and Adrian; No II from 0400 to 0800 hours is Rene' and Andrew; No III from 0800 to 1200 hours is Captain Jochen and Pete. As the River widens into Delaware Bay, we raise mainsail and genoa and, mindful of the many commercial ships, we tack toward open waters, still 25 NM away. The Captain establishes Standing Orders and Night Order to ensure that all know to call on the captain if the wind shifts or increases by certain values, a ship comes within a certain radius, etc. He then takes the wheel so that the crew can rest for a couple of hours.
At sunset, we have a simple meal in the cockpit and discuss tonight's weather report: S 10-15 knots on the nose, seas 2-3 feet, patchy fog, and visibility 1-3 NM. Since a weak front is to pass through, we use the waning light to put one reef into the mainsail. Our navigators had picked the departure point from the Delaware Bay as the NW perimeter buoy G "5" Fl G 2.5 s Gong of the charted Pilot Area which lies just E of Hen and Chickens Shoal. Voila, we are set to head into the Atlantic, course 167º True. Alas, the best course our Watch No III can hold in prevailing conditions is 155º per ship's compass (psc). At 2230 we finally pass the COLREGS line as Bob spots a fast boat heading our way from Lewes, DE. Its distinctive navigation lights bring to mind this helpful rhyme: "white over red, Pilot ahead." Indeed, this vessel passes astern to rendezvous with a huge container ship waiting inside the designated Pilot Area. As the next watch (Bob and Adrian) takes over from the Captain and Pete, we observe a long line of commercial vessels in the Traffic Separation Zone the proximity of which sets off our AIS alarm.
Day 4 - Offshore to Cape Charles Harbor, Chesapeake Bay Entrance
During the night, our prudent watch standers alert the Captain as to several phenomena: Bob and Adrian encountered at 0300 the predicted, somewhat spooky, fog and kept scanning the radar for traffic. Rene' and Andrew are now picking up AIS signals of vessels we should be able to see. Are they just small private skiffs? Could they be trawlers fishing for Menhaden? We could only guess, but we passed them without incident, and the watch is pleased that the fog finally burns off at sunrise at 0630.
Throughout the day, our navigators pursue DR (Deduced Reckoning) navigation in earnest. During hourly boat and weather checks, they find that our manual bilge pump is not functioning properly. So we return to using the electric bilge pump manually and count seconds until the bilge is dry. Bob sees the first of several dolphins and turtles during our trip. Since the sea is now flat with no wind, Andrew and Pete who had already taken the ASA107 Celestial Navigation class, break out their sextants and start taking sun shots.
At 1610 at 37º22.875'N; 075º15.384'W, we are still miles from the Chesapeake Bay Entrance, but it's none too soon to discuss safe landfall. For our landfall preparation, we check the Light List for the buoys marking the North Channel through Fishermans Island Bridge (shown on Chart 12221 as CHESAPEAKE BAY BRIDGE TUNNEL TRESLE D} and Andrew charts an initial course of 215º psc to buoy R "2N" Fl R 4s, S of Nautilus Shoal at 37º19.150'N; 075º54.22'W. We discuss our vessel's mast height which is 52 feet and conclude that Navigator's mast plus antenna could safely transit under Fishermans Island Bridge with its charted vertical clearance of 75 feet. As we get closer, we motor sail along the light's latitude line of 37º19.150'N and watch the numbers on our hand-held GPS climb slowly toward 075º54.22'W. Soon Rene', upon looking at the chart and considering Navigator's draft, reasons that flat seas and the absence of swells and crab pots should allow us to make a "dog leg" across decreasing but sufficient depth to enter the Channel further north. All agree, and with lookouts shining flashlights on either side (it's now full dark) we pick out the channel buoys as the bridge ahead looms larger and larger.
With Bob at the wheel steering expertly into the flood current, the captain uses the drive-by approach along multiple bridge piers with red lights until the green, main channel lights protruding downward from two bridge lanes line up (see diagram). Now, rudder hard left into the north-rushing current, and we are through. Alternatively, in fog, we would have (per Light List) steered directly from the last channel buoy toward the charted Horn (Light List # 21395) to achieve safe bridge passage.
MINIMUM FIXED BRIDGE LIGHTING (MAIN CHANNEL ONLY)
(As Viewed From Upstream)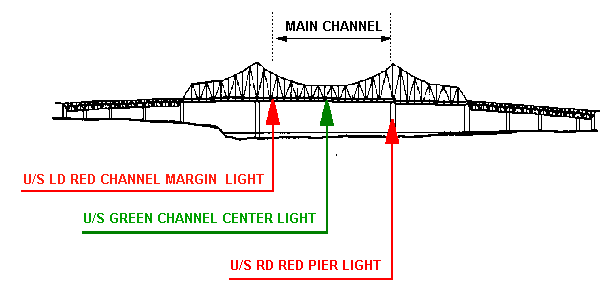 It is now past 2200 and with the current still on our stern, plus one huge Menhaden trawler barreling down on and past us, we rush toward Cape Charles Harbor. Pete and Andrew, eyes glued to the chart plotter, delight in giving us time/speed/distance to marks en route down to the minute. The captain had called ahead indicating to the dock master that we would tie up at a T-head dock upon arrival. Again, with lookouts posted, we finally tied up at 0030 - tired, but quite pleased with our achievement.
Day 5 - Cape Charles Harbor to Fishing Bay
A favorite stop during a restful morning includes breakfast at the venerable Cape Charles Coffee House. Its décor of the early 1900s is still evoking the haberdashery it once housed. This is delightful.
The crew decides to sail north during daylight hours. Yet, to get some ASA106 night time operations into our experience bank, we depart at 1515 for Fishing Bay on the Piankatank River for a night-time arrival. As we cast off, our navigators demonstrate their skill in close-quarter navigation shown by their nav plan to keep us in the Cape Charles Channel and away from 4 ft shoals:
1507 R "4" Fl R 4s 0.3 NM
1512 R "2" QR 0.7 NM
1519 G "1CC" Fl G 2.5s 0.7 NM
1533 RN "36A" 1.7 NM
1608 R "38" Fl R 2.5s 3.3 NM
At 2015 Andrew navigates us toward Fishing Bay as heavy weather clouds loom ahead. With thunder and lightning almost upon us, we manage to set two anchors off the bow just as the heavens open up. Sheltered under the cockpit canvass, we watch lightning flashes light up the sky.
Day 6 – Fishing Bay to Solomon's Island,
Windmill Point and, later, Smith Point Light are perfect marks to try more bearing and running fixes. We see rays and pelicans. Adrian, who holds the top-level ham radio license "Extra" listens to several Ham Radio Nets broadcasts via our ICOM M802 single side band radio. Text review leads to excellent and penetrating questions and conversation. Another good nav plan gets us safely to Calvert Marina, Solomon's Island where we pump out and then dock – right next to a German cruising couple from Düsseldorf on the Rhein River. Rene' asks insightful questions since she wants to go cruising as well, together with her husband who is upgrading their dream boat at present.
Day 7 - Solomon's Island to Annapolis
We travel for a while close to, and in VHF radio contact with, the German couple. The Captain has taken the wheel so students can take their ASA106 test, which All pass with flying colors. Now a treat: the wind has freshened from the SW allowing us finally to rig the whisker pole and run north wing-on-wing and make 4.5 knots in a 10-knot breeze.
| | |
| --- | --- |
| | Click image to enlarge |
We see summer pop-up clouds building in the west and Pete is applying his minute-by-minute time/speed/distance calculations to squall front tracking. "Twenty minutes to rain fall." Down comes the pole and all sails – just in time before the tropical downpour cuts our visibility to zero. Navigation lights - already on – are supplemented by our fog signal every two minutes. Out navigators are monitoring radar and AIS while Adrian, Rene' and Bob are lookouts fore and aft as we approach the Harbor channel. So familiar in more southerly latitudes or the Caribbean, this experience is new for some. Blue skies return just in time for us to pick up our mooring, shower ashore, and enjoy dinner at Pusser's.
| | |
| --- | --- |
| | Click image to enlarge |
Day 8, Annapolis to Lankford Bay Marina,
Our final day and run back to our marina leaves us almost wistful. Sailing the Chester River, now on reciprocal course, shows we have the routines down pat. Of course, close out chores – pumping out, fueling, docking, cleaning – are part of cruising, too. That done, we bid each other a fond farewell.
Well done, my friends. Your captain salutes you – with thanks and appreciation. Fair Winds to you, always.
Captain H. Jochen Hoffmann
On board S/V NAVIGATOR
July 20, 2016
Rock Hall, Maryland