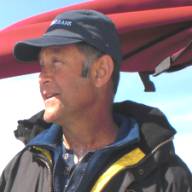 Captain Jim Gardner graduated from Old Dominion University in Norfolk, Virginia and has spent over 30 years sailing and working in the maritime industry. He retired from NOAA (National Oceanic and Atmospheric Administration) after 28 years of service, where he worked primarily in the field of Nautical Charting. Afterwards he began working on offshore supply vessels in the Gulf of Mexico.
His nautical career has provided him the opportunity to sail in most of the US coastal waters from the Arctic to the Caribbean, and nearly all of the Great Lakes. Even when his career forced him to be land-locked, he could be found racing 16ft Snipes in the man-made lakes of Kansas. He holds a USCG Ocean Master's license and ASA Instructor certifications for 101, 103, & 105. Jim has been skippering sailing cruises for over the past 5 years on sailboats up to 50 foot in the Puget Sound, Bahamas, British Virgin Islands and Chesapeake Bay.
Jim loves the ocean and sailing, as well as mentoring others. He feels that being a sailing instructor allows him to combine both of these passions together.